About Us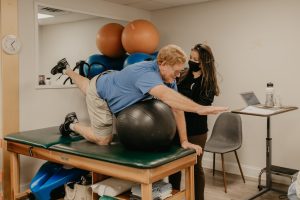 A&M Therapy, created in the fall of 2006 is local and therapist owned providing the best rehabilitation services in Central Brevard.
The office has served various patient populations including acute patients post surgery, those entering the twilight of their lives requiring balance training, as well as athletes from the professional, college, and high school ranks. "Our vision is to provide quality, individualized therapy and quick return to function for all our patients.
Our vision is supported by a team of medical practitioners who entrust their patients' Physical Therapy and Occupational Therapy care to A&M Therapy. Following only the highest of ethical standards, our patients come to us with confidence knowing they will receive the greatest of care." ~Amado Mendoza
Meet the A&M Therapy Team
Client Testimonials
"I'm feeling much better now than when I started coming here. The staff here make you feel like family and I'm talking about everyone here. Super great staff."
G.M.
"Absolutely! When I first started I couldn't sleep, could barely walk or stand upright. Now I feel 100% better and can walk, sleep, work, bend, and stoop without pain. The staff was professional, courteous and knowledgeable. They are genuinely concerned about their patients."
J.H.
"Before, I couldn't walk without a limp and a lot of knee pain. Now, I walk a lot better and feel stronger. A very friendly group."
D.O.
"I had restricted neck and shoulder movement and vertigo. Physical therapy increased my ability to move and I have no more dizziness."
D.C.
"I came for physical therapy because I was unable to walk very far without pain. After physical therapy, I am much stronger and more stable. Everyone was very friendly and helpful."
M.C.
Accepted Insurances
All major Insurance accepted: Medicare, Tricare, Health First Health Plans, Veteran's Affairs, Aetna, Blue Cross Blue Shield, Cigna, Florida Health Care plans.  We also accept automotive insurance: Geico, State Farm, and more.